What is community care?
Community care comprises every form of help and care that is exchanged between neighbours. It usually refers to the neighbourhood as one layer within a person's care network. It can also refer to the entirety of exchanges of help within a neighbourhood, whether or not supported by the local government or a care organisation.
From digital neighbourhood network to a caring and inclusive community
Digital neighbourhood network Hoplr (iOS, Android, hoplr.com) offers users insight into the capital of their neighbourhood: goods, knowledge, skills, infrastructure, time, etc. Citizens and local governments call on the Hoplr neighbourhood for all kinds of care and help requests.
Every call or exchange of help that appears within the neighbourhood network, stimulates residents to ask for and offer help. The neighbourhood becomes more and more caring and inclusive.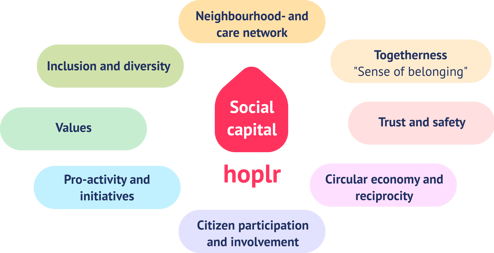 Community worker municipality Olen
Before starting up our community work, we looked for a workable system to easily match the supply and demand of citizens. Hoplr helps us turn Olen into a warmer and more caring municipality.
Read the case study of Olen
Our tools and services
Neighbour help
Connect help offers and help request. Neighbours help each other based on their skills.
Helpers pick from 70+ skills
Users in help of need post help requests
Or they consult the list with neighbours' skills
Volunteer programme
Call on neighbours for community work. Contact dozens of local volunteers in no time.
Neighbours can register as volunteer
Consult location and skills of volunteers
Filter and contact the right people through chat or mail
Verified accounts
Connect community or field workers. Verified accounts can access several neighbourhoods
Easily switch Hoplr neighbourhoods
Choose an icon and role
Become a point of contact within the Hoplr neighbourhood
Calls and vacancies
Launch calls and vacancies. Find candidates quickly and easily through a registration form.
Ask citizens for their engagement through a registration form
Publish messages to inform, raise awareness, involve,...
Publish calls and messages in one, several or all neighbourhoods
Mobile iOS or Android smartphone app
Keep in touch with the neighbourhood anywhere, anytime.
Switch neighbourhoods with the app
Always available
Receive notifications
WCAG 2.1 guidelines for accessibility
With every update, we strive to comply with the WCAG 2.1 guidelines.
Knowledge centre
Our experts have a heart, soul and gift for bringing people together. By connecting stakeholders and (physically) entering into dialogue, they activate the social capital of the neighbourhood. Behind the scenes, they work on the social fabric of the Hoplr neighbourhoods and assist our clients with strategy sessions for online and offline community development.
Call on our experts for your project:
Developing community-building initiatives
Matching help requests and offers
Stakeholder management and community building
Analysis of the social DNA
Organisation of neighbourhood activities
...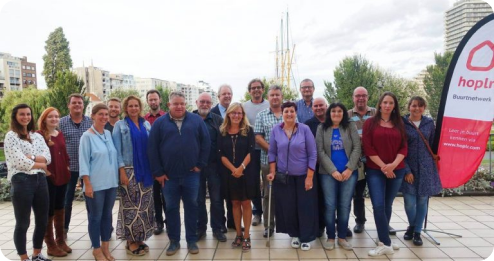 Our experts
Our team of experts in the field is excited to support you with the design, execution and analysis of your community care projects.
View their offer