What is neighbourhood participation?
Neighbourhood participation includes all initiatives in which citizens have a say in their direct living environment and in local government policy. Often, these initiatives also take place in the context of the neighbourhood, which means that residents work together and bring in ideas to improve their neighbourhood.
From digital neighbourhood network to an involved and participating community
Digital neighbourhood network Hoplr (iOS, Android, hoplr.com) unites and mobilises citizens to think and talk about their neighbourhood. Local governments and organisations can activate citizens and collect anonymous data.
Hoplr increases involvement in the neighbourhood, thus increasing the level of participation in projects. By bringing opportunities for participation to the broad local community, we also involve the silent majority.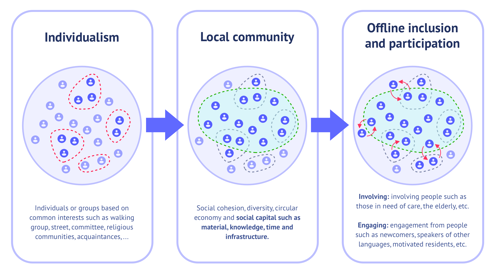 Mayor Boechout
We launched a number of ideas from the policy memorandum via our neighbourhood platform Hoplr. 1,831 votes were cast and 301 responses were received across the 10 statements. The first part of our participation process on the 2020-2025 policy memorandum has already been successful.
Read the case study of Boechout
Our tools and services
Public participation platform
Gather all participation projects on one public participation platform with your own house style and URL of choice.
Overview page
Project pages
Surveys
Participatory budgets
Public links
Ideas from citizens
Citizens can add ideas or initiatives to your participation projects.
Choose a theme for your project
Define a timeline or a deadline
Select which neighbourhoods you want to reach
Neighbourhood polls
Ask for the opinion of citizens and receive arguments and counter arguments.
Vote: citizens can vote "FOR" or "AGAINST"
Score: citizens can give a score from 1 to 10
Multiple choice: citizens choose an option
Examples
New bicycle path downtown? New traffic situation on Avery Lane?
Participation project or campaign
Start a dialogue with citizens. Perfect for cocreation and longer trajectories. You can count on our team's support for setup, launch and monitoring.
Public or verified survey
Compose a questionnaire for anonymous, objective inquiries. Public or with identification. Surveys can be made available outside of the network.
Citizen budget
More and more local governments release a certain budget every year to support local initiatives and projects. Via Hoplr, citizens can submit ideas or initiatives. These initiatives are then budgeted, voted on and executed.
Collecting ideas and initiatives
Budgeting retained ideas
Citizens vote by distributing a budget
Knowledge centre
Citizen participation is an important task that brings along various challenges. Which method is most suitable? How do you safeguard representativeness? How do you translate a policy question into a participation question? What conclusions can you draw from a survey? Our participation experts are academic profiles who get excited by both data analysis and fieldwork.
Call on our experts for your project:
Stimulating citizen initiatives
Plan of action for participation projects
Moderate offline participation moments
Designing and conducting citizen surveys
Processing, analysis and reporting
...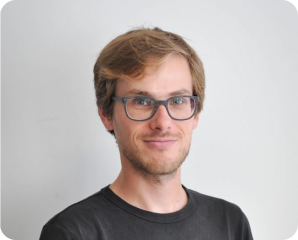 Our experts
Our team of experts in the field is excited to support you with the design, execution and analysis of your participation projects.
View their offer