Our programmes
Inclusion and neighbourhood care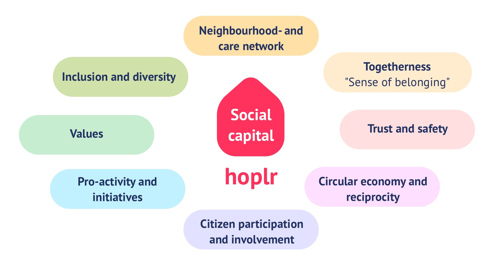 Our view
Hoplr brings people together who have nothing in common but their place of residence. We connect citizens with different backgrounds, mother tongues, opinions, cultures and ages around all kinds of neighbourhood-related themes. Even though these contacts are often short and superficial, they form an important link within the everyday support network. Because of its proximity, the neighbourhood offers an enormous potential of skills, knowledge, time, materials,... In other words, Hoplr makes the neighbourhood's social capital more accessible, which leads to more inclusion and engagement within the local community.
No local community = no inclusion | No engagement = no citizen participation
---
Our expertise
Our experts have a heart, soul and gift for bringing people together. By connecting stakeholders and (physically) entering into dialogue, they activate the social capital of the neighbourhood. Behind the scenes, they work on the social fabric of the Hoplr neighbourhoods and assist our clients with strategy sessions for online and offline community work.
Call on our experts for your project:
Developing community-building initiatives
Matching help requests and offers
Stakeholder management and community building
Analysis of the social DNA
Organisation of neighbourhood activities
...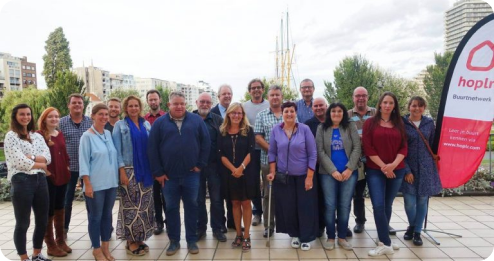 Neighbourhood communication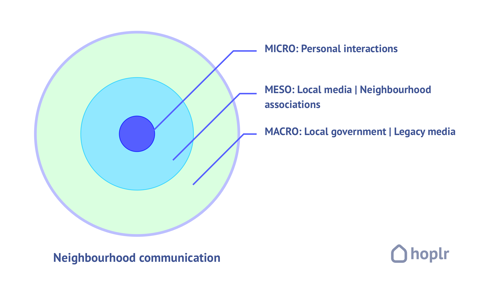 Our view
Every neighbourhood has a communication infrastructure. It consists of the channels through which residents receive and share news, ideas, opinions, requests for help,... about the neighbourhood. But also the interactions with other stakeholders such as local governments, public organisations and project developers make up an important part of the local communication infrastructure. All of this contributes to the knowledge, engagement and social cohesion within the neighbourhood.
In other words, a well-functioning communication infrastructure is crucial in stimulating neighbour help, public support and citizen participation.
Neighbourhood communication leads to higher engagement. Conversely, a strong community is engaged and mobilised more easily.
---
Our Expertise
Clear communication is not just an art in itself. It is an important responsibility when it comes to neighbourhood-related matters: public support creation, environmental communication, sensitisation, activation, etc. Based on a communication plan and accessible language, our experts convey your message clearly.
Call on our experts for your project:
Maximising participation
Designing a communication campaign
Public support and expectation management
Accessible writing (complex or sensitive matters)
Stimulating and moderating dialogue
...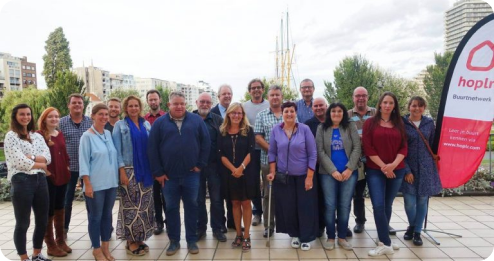 Public participation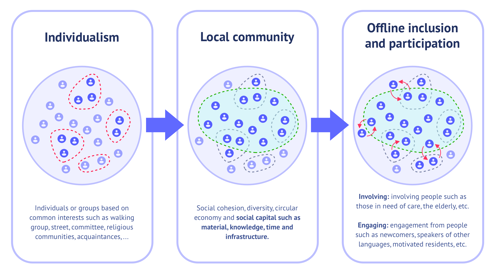 Our view
With Hoplr in your city, you stimulate engagement on the level of the neighbourhood. Social cohesion, physical meetings and involvement are the basic requirements to achieve meaningful citizen engagement. It is all about conversation, working together and often getting your hands dirty. Move from communicating to participating. A smart city listens, knows what is going on and works on a more qualitative decision making process, in collaboration with its inhabitants.
Public participation through Hoplr shifts the focus from the individual to the local community. This way, we involve the silent majority.
---
Our expertise
Citizen participation is an important task that brings along various challenges. Which method is most suitable? How do you safeguard representativeness? How do you translate a policy question into a participation question? What conclusions can you draw from a survey? Our participation experts are academic profiles who get excited by both data analysis and fieldwork.
Call on our experts for your project:
Stimulating citizen initiatives
Plan of action for participation projects
Moderate offline participation moments
Designing and conducting citizen surveys
Processing, analysis and reporting
...