What is a neighbourhood scan?
A neighbourhood scan is an analysis that maps all characteristics and capacities of a neighbourhood using a participatory measuring instrument (relations, access, challenges, opportunities, evolutions,...). This methodology is based on a number of principles of "asset based community development" or "abcd". The neighbourhood scan is based on both objective and representative as well as subjective and perceptual data.
From digital neighbourhood network to insights and co-creation
The social capital of the neighbourhood includes everything that can be used by its residents, based on their relationship with the community, to move forward either as an individual or as a neighbourhood. By mapping this social capital, we gain insight into important challenges and opportunities.
Hoplr firmly believes in the power of the collective. That is why we believe that a neighbourhood analysis is best carried out in cooperation with the local residents. Using the neighbourhood lens, we physically enter into a dialogue with them.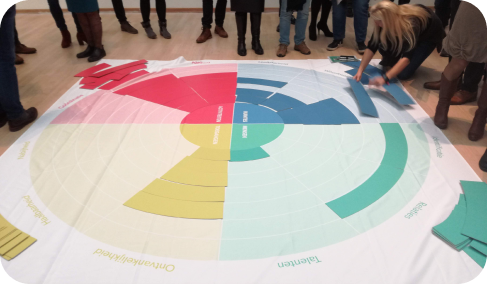 Resident Papegaaiwijk
I already knew some of my neighbours by face, but ever since the workshop, we've actually all started greeting eachother!
Our tools and services
Phase 1: Project design
Let our experts guide and inspire you during a comprehensive consultation
Timing
Channels
Method
Goals
Phase 2: Representative survey (online and offline)
Collect representative data through a sample
Questionnaire (digital, on paper) and in-depth interviews
Sample for representative results
Dillmann method for maximal participation
Result: neighbourhood capacity map
Phase 3: Co-creation and offline workshops
Bring neighbours together and co-create during offline workshops
A conversation about results survey
Determine goals for neighbourhood
Identify what community members can do
Create an action plan and connect
Phase 4: Reporting
Get a clear overview of the neighbourhood scan
Summary of all findings
Report of in-depth interviews and workshop
List of action points and opportunities
Inspiration for policy making and initiatives
Customised neighbourhood scan
Three options for a perfect fit
Digital, representative, or collaborative neighbourhood scan
Digital: online participation, standard questionnaire
Representative: online and offline, with a sample
Collaborative: survey, interviews and workshop
Real-time neighbourhood monitor
Consult neighbourhood scores anytime
Hoplr users evaluate their neighbourhood yearly
Twelve themes related to the neighbourhood
Safety, leisure, nature, local business,...
Check average scores per theme and neighbourhood
Knowledge centre
Conducting a neighbourhood analysis may be an intimidating task, but it brings along great opportunities! By engaging in dialogue with citizens, you will not just receive nuanced feedback. You'll also stimulate community members to view their environment in a new way and take initiative to tackle local challenges. Our community managers are masters at moderating such conversations.
Count on our experts to:
compose a representative sample;
design a questionnaire;
process and analyse the results;
organise and moderate workshop;
write out a clear report;
...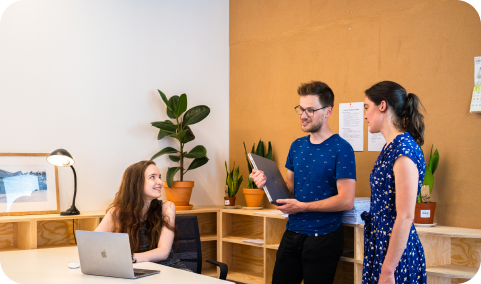 Knowledge centre
Our team of experts in the field is excited to support you with the design, execution and analysis of your neighbourhood analysis.
View their offer