What is neighbourhood communication?
Neighbourhood communication is communication at the (meso) level of the neighbourhood, about subjects that concern residents. That may be because they experience certain impact from the subject, or because citizens could make an impact on it themselves. Think of themes such as road works, utilities or local trade.
From digital neighbourhood network to dialogue and public support
Digital neighbourhood network Hoplr (iOS, Android, hoplr.com) makes it easy for citizens, locally active organisations and local government to communicate.
Informing and connecting citizens on neighbourhood-related topics increases awareness and involvement in the neighbourhood. By entering into dialogue at the local community level, we create more support and participation in all kinds of initiatives.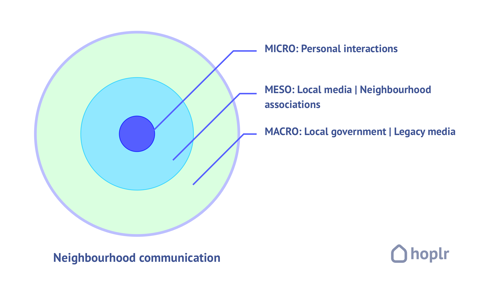 Head of information and communication
Hoplr is a very useful platform. We are able to inform the citizens of Ghent and Destelbergen more easily when something changes in the garbage collection rounds. We often receive positive reactions from Hoplr users.
Module functionalities
Neighbourhood-oriented communication
Communicate at the level of the local community. Neighbours receive notifications via mail or smartphone.
Share news with one, several or all neighbourhoods
Select the neighbourhoods you need from the list or map
Post a message, alert, activity or poll
Users get a notification and can comment
Which neighbourhoods are at your disposal?
Your organisation may be active in a large area. Our dashboard can be made available at the provincial or national level. Contact us to learn more.
Communication project
Gather all communication concerning a certain theme, project or campaign.
All related communication in one place
Add events, polls or surveys
Project page as an overview for citizens
Start and end date, with or without phases
Insight in your own communication
Gain insight into the engagement, impact and subjects of your communication
12 topics related to local community
based on thousands of messages from local governments
analysis through NLP technology
inspiration for varied communication
Bottom-up notifications
Citizens can choose to share their ideas, help requests and reports with you.
By default, external parties have no access to neighbourhood conversations
Users can however choose to share their message with you
Read along and comment on reports, ideas and help requests
No worries about privacy
Internal organisation
Invite people of your organisation or department and grant rights
Admin or editor rights
Send invitations
Multiple services or departments
Social media monitoring (OBI4wan)
Connect the Hoplr channel to your OBI4wan account and follow everything from one place
Program against our Open API
Social media monitoring tools such as OBI4wan
Use our anonymous and aggregated data
Gain insight in trends through our dashboard
Knowledge centre
Clear communication is not just an art in itself. It is an important responsibility when it comes to neighbourhood-related matters: public support creation, environmental communication, sensitisation, activation, etc. Based on a communication plan and accessible language, our experts convey your message clearly.
Call on our experts for your project:
Maximising participation
Designing a communication campaign
Public support and expectation management
Accessible writing (complex or sensitive matters)
Stimulating and moderating dialogue
...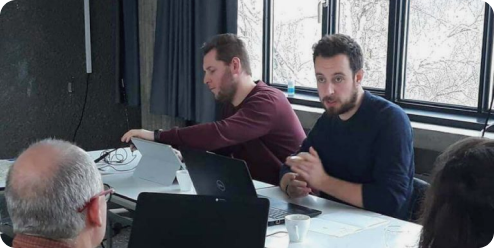 Our experts
Our team of experts in the field is excited to support you with the design, execution and analysis of your communication projects.
View their offer